While podcasts can't replace seeing a therapist, they can provide much-needed support. Podcasts like The Hilarious World of Depression share entertainers' own experiences with clinical depression and use humor to normalize the condition.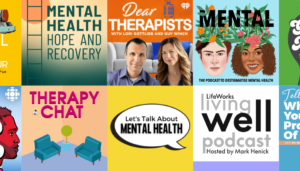 For a more serious approach, The Happiness Lab uses the latest psychology research and offers compassionate directions for dealing with negativity. Be sure to choose a podcast with topics and guests appropriate to your circumstances. Keep reading the article below to learn more about Mental Health Podcasts.
With mental health podcasts, you can take your wellness practice on the go. While they're not a replacement for therapy sessions or other forms of treatment, they can provide a helpful way to manage symptoms and emotions. They can also be a way to normalize mental health issues that are often stigmatized, such as depression, anxiety or bipolar disorder. There are podcasts on almost every topic imaginable, so you can find the one that's right for you.
Some of the most popular podcasts are those that focus on psychology and mental health. They discuss topics such as coping strategies, mindfulness exercises and self-care techniques. Some are led by professionals, while others feature experts in specific mental health conditions or current events. Whether you're looking for a way to increase your awareness of mental health issues or just need a little bit of extra support, these podcasts are the perfect solution.
There are over 1.7 million podcasts out there, and many of them are centered on mental health. Whether you're trying to cope with an eating disorder, dealing with PTSD or navigating a complicated relationship, there's sure to be a podcast out there that can help. Some of these podcasts feature interviews with people who have lived through mental health challenges, while others are based on research or personal experience.
One of the most popular mental health podcasts is Gretchen Rubin's Happier. Her laid-back, family-style podcast covers a wide range of topics, from beating loneliness all on your own to overcoming climate anxiety. She also offers some simple tips to improve your overall happiness.
Another great podcast to listen to is Therapy for Black Girls. Founded by therapist Joy Harden Bradford, this community podcast explores the intersection of race, gender and mental health. The podcast is geared toward women of color, and it covers a variety of topics, including self-care, family dynamics, depression and trauma.
If you're interested in learning more about the mental health podcasts that are available, check out our list of top-rated options. You can also use the app Rephonic to see estimated streamer numbers, which can give you a sense of how many listeners are tuning into each episode. If you'd like to upgrade your account, you can get even more stats about each show, including detailed information on the listener demographics.
Closer to Fine
For many people, "Closer to Fine" is more than just a song by the Indigo Girls. It's the kind of musical lightning in a bottle that can change lives and inspire hope. The iconic folk-rock tune has been covered by countless musicians and featured in many movies and TV shows over the years. The song's enduring popularity speaks to its profound meaning and universal messages. It's a reminder to everyone that they are loved and supported, no matter what happens in their lives.
The song also resonates with young women, including those who may be struggling with their identity or a sense of insecurity. Emily Saliers, the lead singer of the band, wrote the song on a porch while vacationing with her family and reflecting on friends who were going through tough times. The lyrics express her distrust of academia, a world that seems to be filled with experts who offer sure-footed answers but are often unable to fully address the questions that plague us.
As a result, the song has come to be known as an affirmation of self-worth and inner strength. It's a reminder to always be true to oneself and never be afraid to ask for help when needed. The song's resounding message has helped many find the courage to be themselves, regardless of what others think or say.
In addition to its role as a cultural touchstone, the song's relevance has been enhanced by the changing landscape of gender and sexuality. In the 2019 film Greta Gerwig's movie Little Women, the song is played during a scene in which a character struggles to be comfortable identifying as lesbian. The actress who portrays the character, Sarah Chalke, has spoken about how the inclusion of the song in the movie is a sign of progress for the queer community.
Similarly, the 2023 episode of the television show Firefly Lane features the Indigo Girls' "Closer to Fine" in a scene that revolves around Kate (Sarah Chalke) discovering her daughter's interest in female artists and music. Kate puts the song on in her car and tries to explain to her daughter what it is.
Huberman Lab
The neuroplasticity overlord himself is back to take us deeper into the neuroscience of breathing, meditation, hypnosis, and other behavioral tools that can help change our brain and body. In this episode, we dive into how these behavioral tools affect your brain, how they work to impact your mood and state, and what the latest research says about them.
Andrew David Huberman, Ph.D, is a professor of neurobiology and ophthalmology at Stanford School of Medicine and partners with the sports nutrition company Momentous to offer branded dietary supplements. He's also the host of the podcast, Huberman Lab, a top-ranked podcast in both science and health categories that explores neuroscience, wellness, and science-based tools for daily life. His work is regularly published in leading peer-reviewed journals like Nature and Science, and featured in TIME, BBC, Scientific American, and Discover.
Subscribe to Huberman Lab Premium and support the show! Your support is vital to helping scientists do their best work. A significant portion of proceeds from every Huberman Lab Premium subscription will fund human research (not animal models) selected by Dr. Huberman, with a dollar-for-dollar match from the Tiny Foundation. Learn more and sign up here!
This podcast is hosted on Podbay, which makes it easy to find and manage the episodes you're interested in. Podbay is owned by the independent media company, Scicomm Media. In addition to hosting this podcast, Scicomm Media invests in and advises a handful of companies in the digital content space. For more information, see our full disclosures page.
The Mental Illness Happy Hour
Mental health issues are as broad and diverse as the people who live with them. They can include everything from substance abuse, depression and anxiety to bipolar disorder, binge-eating disorders, and PTSD. Whether you're suffering from one of these conditions or simply looking to build up your resilience, podcasts that focus on mental wellness can provide the support and education you need. While these podcasts won't replace a licensed therapist, they can validate your experience and offer expert-backed advice for coping with everyday challenges.
When it comes to choosing the right mental health podcast for you, start by identifying what your goals are. "Once you know what you're looking for, listen to some episodes and read listener reviews," says Guttman. You might also consider the host's background and their expertise in the subject matter, or whether the podcast is geared towards a specific demographic or industry. "You want a podcast that makes you feel understood and supported."
Then, choose a program that speaks to you on a personal level. Some podcasts feature somber interviews with experts, while others offer looser, conversational formats that may be more your speed. Some of these podcasts, like The Mental Illness Happy Hour and Depresh Mode, even use humor to address sensitive topics. Lastly, choose a program that suits your time constraints. If you don't have a lot of free time, try a short meditation or learning-focused podcast to get the most out of your listening sessions.
Whether you're struggling with clinical depression, trying to stay positive through a tough patch, or just interested in elevating your emotional strength, the best mental health podcasts have something to offer for everyone. With so many choices on the market, finding a podcast that's right for you doesn't have to be hard. Just be sure to check out the latest episode before starting — and don't forget to tune into our other picks for top podcasts in various genres!